In addition to being an effective vectori of communication, because it allows you to easily exchange information with your buyers, the blog is also a powerful tool to improve the income of your online store, since it offers you 2 opportunities: retain your existing customers and recruit new customers to your business. But running a blog can also be very beneficial for the SEO of your e-store.
By the way, what is a blog?
The question may seem strange, because if you have started reading this article it is because you must already have a pretty good idea of ​​what it is all about. However, a little reminder will not be too much to set the context.
For some people, the term still refers to the personal pages wrote by teenagers ten years ago (before the emergence of social networks) and on which they shouted their love for a football club or a music group. At the risk of disappointing some, that will not be the subject here.
Instead we are going to talk about professional blogs where we find news, data, tests, articles or a list of advices about a theme or a field of activity in particular (cooking, travel, decoration, etc.). They are run by people with a very good knowledge of their subject and are aimed at a targeted readership.
We can cite as an example… the page on which you are currently. This is the blog section of our site and you will find our articles there about the worlds of web and e-commerce in particular. In some cases an entire site is a blog, like the Nosto Blog (but don't click right away, there's plenty of interesting stuff to read after).
Why would I need a blog?
Before answering this question I am going to ask you to recall a situation that you have already experienced. You must have gone to a household appliance store one day to buy any device, no matter which one. There you have certainly had to deal with 2 categories of sellers: the one who simply read the product-sheet placed next to the demonstration model and the one who pushes you towards the cash register with the box of the product he recommends you in your hand, before you've even finished explaining to him/her why you came to the store. In general in these 2 cases it is likely that you did not enjoy your shopping experience, maybe even that you left without the device for which you came. In any case, you did not get the service you expected.

Prior to pruchasing online, each customer goes through a buying journey . He gets information, compares the products and their prices, places his order and "consumes" his purchase. Before the order, he may need additional information (opinions from other customers, details from the seller, etc.). After the order, he is also likely to continue to interact (request for advice on how-to-use, creation of alink beween him/her and the brand, etc.). This is where the blog comes in and becomes a powerful tool to set you apart from your competition.
Here is a list of the benefits that you can get from a blog as an e-merchant.
Having an effective communication tool
The blog will allow you to transmit a large amount of information to your visitors: launch of a new range of products, participation in a trade fair, opening of a new delivery service, etc. You will be able to keep them informed of all your news .
It is complementary to your e-store, in the sense that this type of editorial content is often quite poorly managed by e-commerce CMS. They are not really suitable for conveying this kind of information to customers.
The articles you write on the blog can also be used to feed your social networks . You write an article on the blog and then share it on the different platforms.

The effectiveness of the blog is also due to the fact that it allows to provide more information and quality information . You can present the same elements as on your site but from a different angle. In an e-store, product descriptions are often quite "formal": list of technical specifications, product composition, etc. The blog offers you the opportunity to provide rich and complementary information. For example you can write a file / report detailing the history of conception of a product, the philosophy of a new products range; all complemented by a photo gallery in situation,…
Promote your business and your products
Even if you choose to start a blog, your business remains online sell and your income comes from orders placed on your e-shop. So, in addition to these marketing and communication aspects, the blog also serves as a lever for growth .
You must therefore "inject" some commercial content into your articles, which will encourage your customers to buy or buy more . While that shouldn't be your only motivation, the goal is to convert some of the time and energy you spend on blogging into revenue.
So highlight your products and services, explain to the people who will read your articles why they should buy from you rather than from your competitor (who perhaps does not have a blog to develop his own sales pitch),…
But do it in a subtle way to avoid sounding overly aggressive or intrusive. The blog must continue to give the feeling of being a "non-mercantile" place. Besides, its atmosphere must differ from the one of the e-shop. Do not forget that the visitor came there to read, get information, discuss,… If he feels that you are in the process of making advertisi,g, you risk losing his confidence.

There are many ways to keep the business side of blogging low-key. One of them consists of alternating editorial content and product placements . If you are writing a dossier on a seasonal product (e.g. sunscreen), start by addressing the general aspects (the evolution of the product over time), then develop the point-by-point theme (the different products by type of skin, by age,…) then finish by including a list of recommended products (containing links to the store's item sheets) in the conclusion of the article.
By doing this you will capture the reader's attention. Once their interest is aroused, they will be more willing to discover the products you want to promote . You will have to accompany him until the beginning of his purchasing journey.
Address the right target and strengthen the bond of trust
Much more than the e-store, the blog is also the place where you go to talk about yourself and the life of your business . For example, you can express points of view, share your favorites, announce an event (eg: a reward obtained, the opening of a point-of-sale, etc.). Addressing your readers personally will create a more direct link with your target audience .
This link will also go in both directions. Visitors will be able to use the comments to give you their own opinions. Some will take the opportunity to ask you questions or express their satisfaction (and therefore a form of recognition of your work), others will pass on their expectations to you (which will allow you to identify new business opportunities ). These exchanges will have the effect of creating a community effect, which will lead to customer loyalty. As for the answers you provide to your prospects, they will encourage them to order on the e-shop .

Your blog should above all be a space where you talk about what excites you: your job. And it should be for people who share that passion with you. Mails it must also show that you are competent in this area, in that it offers you the possibility of acting as a prescriber or influencer. It is this position that will make your audience receptive to your communication rather than that of your competitors.
Take advantage of a new source of traffic and improve your SEO
We've just seen how to get blog readers to come and visit your online store, but we haven't covered the previous step: getting people to read your blog . Obviously we are not talking here about your existing clientele or your community. The idea here will be to see how you will use the blog to introduce your merchant site to new customers .
You know the general principle of operation of search engines: they provide a list of results that correspond to the keywords used for the search. So your goal will be to write articles containing the terms that your customers will use during their research so that your links stand out among the 1st results. Is the title and summary of the article catchy? Congratulations, you have just won a reader and therefore a potential customer.

You may have also heard that a blog would be good for SEO for your merchant site . Well it's true… in some cases. Everything will depend on the technical solution for which you will choose, we talk about it below.
In addition to having a clear preference for relevant content (for example pages where the title matches the texts), search engines appreciate "living" sites , that is to say where this famous content changes regularly (especially the home page). It's a bit like us, we will always tend to go into a store because it has just redone its window rather than the one opposite which exhibits the same 3 old items since the year before.
This is where the blog comes in. It is enough that your site contains one (or more) zone (s) presenting the last news which you published and you will have this mechanism of automatic renewal of the contents dear to the search engines. Obviously your buyers will also appreciate this dynamism and will visit the store more frequently.
Set up a blog – Technical solutions
There are many ways to start a blog and associate it with an e-store. I will present several of them to you, but I will only stay on those that seem to me to be truly relevant.
here, we will essentially talk about CMS and it is the names of WordPress and Prestashop that will come up most often. There are 2 reasons for this: the first is that they are the ones we use to create websites and shops on a daily basis; we know them so we know what they are worth. Then they are the most used, they are leaders in their respective categories (e-commerce for Prestashop, all other types of site for WordPress). But what is true for WordPress and Prestashop is also true for Drupal and Magento.
Install a blog module for Prestashop
A blog module will allow you to add a "News" section to your store. There will therefore be a page listing the articles in chronological order, each article will be individually searchable and you will be able to display lists of the latest news in different places of the store (on the home page, in the footer, etc.) .
The advantage of this solution is that it is very easy to set up . The module is installed in a few clicks, the configuration should not take you much more than 30 minutes and the operation does not require any particular technical ability (you may have to work a little on the visual adaptation to make everything come together). well with the graphic charter of your theme).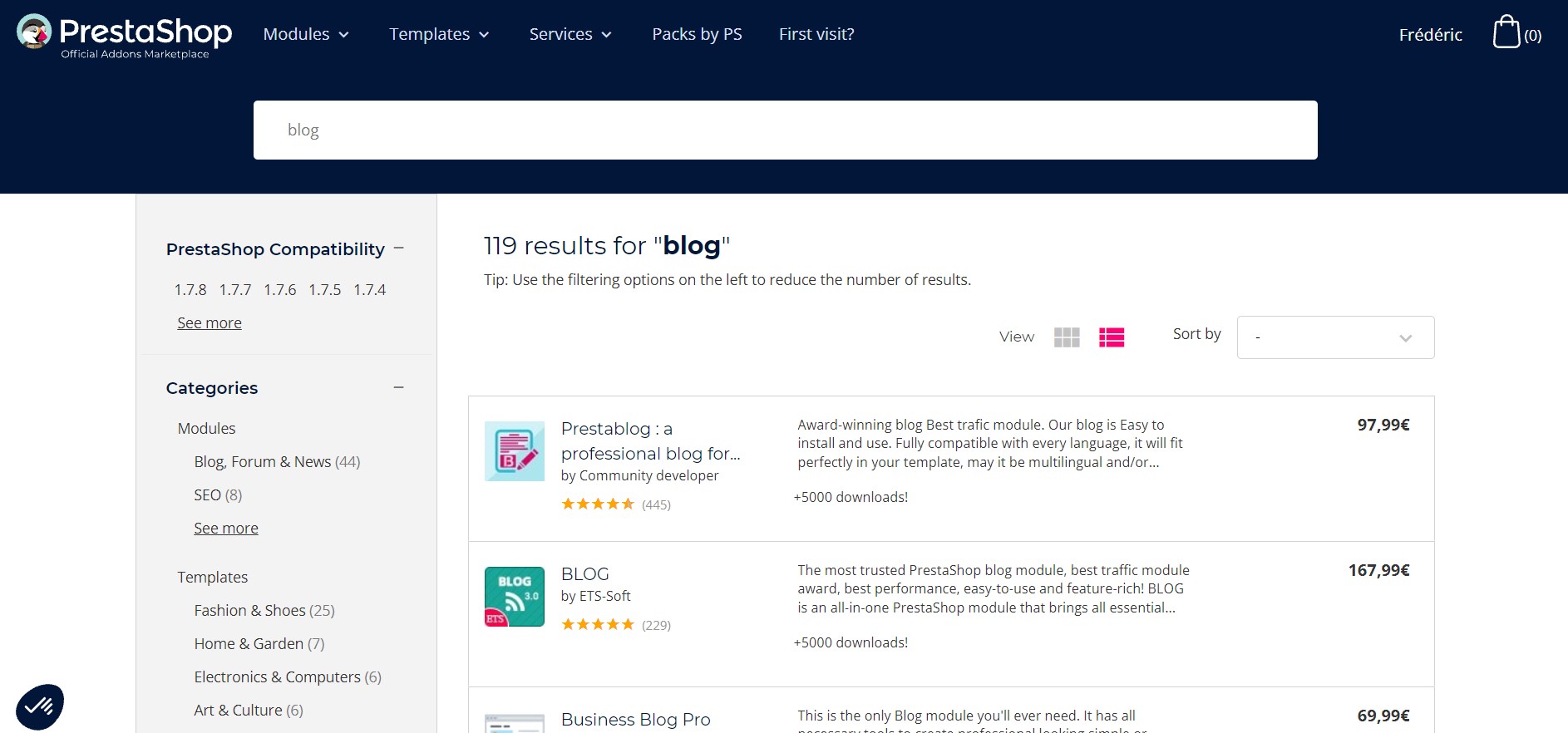 You are going to say to me "But this is the ideal solution then". Well actually… not really. First because the quality of these modules is very variable . Today all the free modules that we have been able to test are either buggy, or very poorly designed, or incomplete (half of the essential features are missing), or downright dangerous because of their security vulnerabilities. The "award" goes to XipBlog. If you come across this abomination during your research, we advise you to flee. On the other hand, the Professional Blog module is of very good quality and its price is reasonable. If you had to opt for this solution, this is the one we recommend.
The other limit of blog modules is that they don't create the "non-commercial" vibe we talked about above. Having a blog separate from your store will allow you to speak to your customers in a different tone and in a different context . They will not feel that your approach is motivated by the desire to make one more sale.
WooCommerce : Add a store to your site
WooCommerce is a (big) plugin for WordPress that allows you to transform this general CMS into a commercial site or to add a "shop" part to a traditional site . It is ideal when selling online is just one aspect of your site… as is our case.
And yes the site you are currently on combines these 2 elements. Its main function is to present the agency and its services. Needless to say, he also has a blog since you are reading it. And together with that there is the store where you can buy modules for Prestashop.

By approaching WooCommerce, we therefore moved a little away from the original subject of the article which was "why set up a blog in addition to my e-store". But this technical solution is still suitable in the following cases:
You want to create both a merchant website and a blog
You have an existing WordPress site and want to get into e-commerce.
For the 2nd situation, installing WooCommerce will spare you a complete overhaul of your site ; which would be synonymous with significant expenses, loss of content (what "held" in WordPress will not necessarily "fit" in Prestashop) and probably also referencing (the time that the engines understand that you have "moved").
Again if we compare the advantages and disadvantages we see that this solution has the advantage of being "all-in-one" (you have a single tool to manage the entire system) and the work of integrating the system. The e-shop is moderate (install and configure WooCommerce, feed the catalog, etc.). On the other hand, there is still no separation between the blog and the e-shop to give this impression of "neutral zone" .
Display the latest news from your blog on your e-store
To create the conditions that will arouse the interest of your customers, it is therefore preferable to offer them 2 distinct spaces: the blog and the store . The 1st will be managed with WordPress while the 2nd will be administered with Prestashop. Technically it is also the most solid solution since you will use each CMS to perform tasks that correspond to its specialty: the WordPress interface is perfect for posting news and Prestashop is a complete system for managing merchant sites. You have the best of both worlds.
From there it will therefore be necessary to display the news of your blog within your store in order to benefit from the advantages in terms of SEO which we were talking about above.
For this we will use a module that will take care of retrieving recent news from the blog and display them on the Prestashop store . It will therefore "pull" the data (texts, links and images) of the latest news of the blog and display them on the e-shop. To summarize the module acts as a connector or a gateway between WordPress and Prestashop. This is the solution we recommend, because it is both technically sound and ideal for SEO.
If this solution interests you, we invite you to take a look at our "My WordPress Posts" module (see below). Very easy to configure, it will allow you to integrate the latest news from a WordPress blog into your Prestashop e-store in a few clicks . Do not hesitate to consult the module page to learn more, see screenshots and watch a demonstration video.
Here are some tips if you choose to start a WordPress blog to complement your merchant site. First of all, keep it simple, the project must remain "light", this will save you time and stay on a reasonable budget . The goal is to set up a news publication platform, so opt for a simple theme (there are many free WordPress themes oriented "blog" or "webzine" that will do perfectly well) and avoid adding extensions if they do not bring real added value. For the address, we advise you to choose the subdomain option, in order to obtain a url of the blog.mysite.com type . All hosts offer it and it's easy to set up.
Alternative solutions … and not always satisfactory
As explained above, there are a multitude of CMS and each has its own solutions: there are blog modules for Magento, a plugin allows you to transform Drupal into an e-shop, Shopify offers a blog option, … Each of its solutions is similar to the 3 cases which we have just detailed.

Then we could talk about other "DIY" alternative solutions, whose principle is to hijack an existing functionality. The most common is to use Prestashop CMS pages . If we arrive at an approximate result, it should still be noted that there are many gaps. This system is limited in terms of design ; to obtain a visually pleasing result it is necessary to deeply rework the templates and the CSS. You also don't have as much SEO optimization as with WordPress, so pages will generally be quite poorly referenced. And you will not have access to several important features of a blog: the comment system, tags, social networks sharing buttons,… Not to mention the fact that the WordPress text editor is much more complete and easier to learn than that of Prestashop. In short, it is a solution to be avoided .
The qualities of a good blog
Now that we have discussed the advantages of a blog for e-merchants and studied the different technical solutions, we invite you to take an overview of the elements that will participate in the success of yours:
it must be

"editorial" oriented

, it is your "newspaper" or your company's "magazine" so avoid parasitizing it with off-topic things (downloading documents, registration form, etc.)

its design must be clean and airy

so that it is easy to read, including on mobile and tablet (the "responsive" must therefore be neat),

it correctly uses all

the specific features to this type of site

such as the categorization of articles, the association by keywords (tags), the social networks sharing buttons and obviously the comments,

it

respects the main principles of SEO

such as the title / paragraph alternation or the correspondence between the words present in the title and in the paragraphs,

there are

quality images

and those images

are in reasonable quantity and their sizes are harmonized,

if you offer a newsletter,

the registration form is highlighted there

(your blog is the place where you will recruit the more subscribers)

Some other recommendations and useful info
Are you ready to take the plunge and start your blog? Here are some final tips to help you with this project.
Writing is a time consuming activity. Never confuse the time spent reading an article with the time it took to write it. Because a blog needs to be fed! To avoid giving the feeling that it is abandoned, you will need to add content regularly. On the other hand, you don't necessarily have to publish at a fast pace, prefer quality over quantity .
To avoid white-sheet syndrome, try to keep a small notebook with you to jot down ideas for articles, an article canvas, or snippets of sentences when they come to you. Once in front of your screen you will already have your subject and all you have to do is put your notes in order . Obviously this notebook can be replaced by a Word document that you keep permanently on your computer desktop.
Are you not very comfortable with writing? Nothing dramatic. Although it is preferable to have a minimum of writing skills before embarking on this project, it is not useful to have done a school of journalism. Address your readers as you would orally , use a personal tone (otherwise your texts will sound fake), keep sentences short and use your own words.
Finally, if you want to go deeper into the subject, we invite you to read Morgane Kerninon's article " Why is blogging profitable for e-commerce? " (Which notably contains a very good infographic).
And if you have any examples of successful blog / e-shop pairings that you want to share, feel free to leave the links in the comments.